The A29 Spar & Solo Service Station wins the Northern Ireland Neighbourhood Retailer Award for "Best Forecourt" in their class!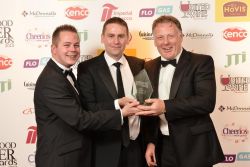 Commenting on this award Johnny Finch said that everybody at the A29 and within the larger Solo Retailing family were over the moon about the achievement.
There has been a lot of time and effort that has gone into winning this award by a number of dedicated individuals, and on behalf of myself and my partners Andrew Hutchinson and Les Ross, I would like to thank them all. I would also like to congratulate everyone from Milburn Service Station for all their efforts as they were also a finalist in the group.
We took over the A29 store over five years ago and the new store was opened in December 2011. The store itself caters for transient customers and the providing is geared towards this. The site which is situated on the Dungannon Road out of Cookstown has a large forecourt with plenty of car parking. There are the usual facilities for the weary traveller such as an ATM and excellent toilet facilities. Internally we have a complete range of dairy, confectionary and grocery. The core of our business is food to go. We have an excellent hot food and deli bar which opens from 6.30am to 2.30pm. However, we are about to extend the opening times for this to provide a hot food offering up to 7.00pm. We also provide a range of "heat and eat" food to take home under our brands Café Solo and Food for the Soul.
We have recently invested in new kitchens in the A29 and are currently producing all the food to go ranges for all five shops within the group.
In recognition of winning this award we are running a customer competition and every customer will be able to enter the draw for a holiday in Tenerife, Christmas Hampers, and Turkeys etc. These competitions will be launched in the next couple of weeks and will run throughout all of our stores.
I would also like to take this opportunity to thank all our customers for their ongoing support for without them it just would not be possible.